This month we are pleased to feature an interview with Gainesville-based interior designer Maggie Griffin. Read on to find out more about how she works with clients, her style and inspirations:
How do you begin a project with a new client?
I begin projects with a meeting to gain a sense of scope, scale, and wishes for the client. I do encourage them to take a peek at my website and my social media accounts so that they are familiar with my style. I definitely have things that I incorporate into most projects, and its important that we are all on the same page.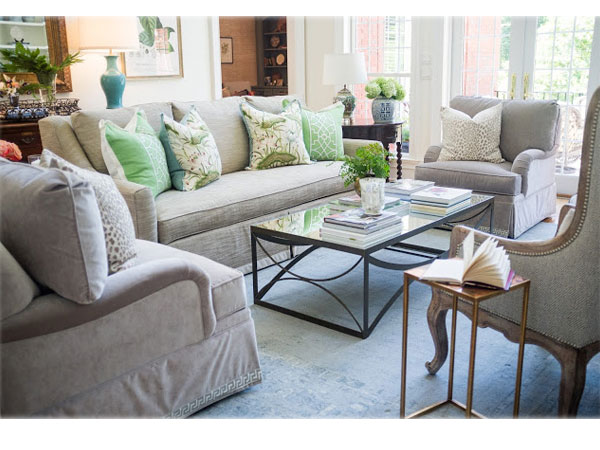 How do you identify what will work for a client given their personal expression or esthetic?
On the same note as the last question, I do have fundamental things I like to inject into my projects…lots of neutral upholstery, blue and white porcelain, pretty pillows. I listen to what my client's desires are, and then try to take them out of their comfort zone, maybe push them a bit further.
Where do you find your inspiration?
I am lucky enough to have amazing friends in the business who I constantly learn from. You can also find me poring over my design books for inspiration, or even just beginning with one fabric that sets the tone for the whole project. Rugs are also a fabulous place to begin. And my monthly shelter magazines that arrive in the mailbox give me such inspiration! House Beautiful is my favorite.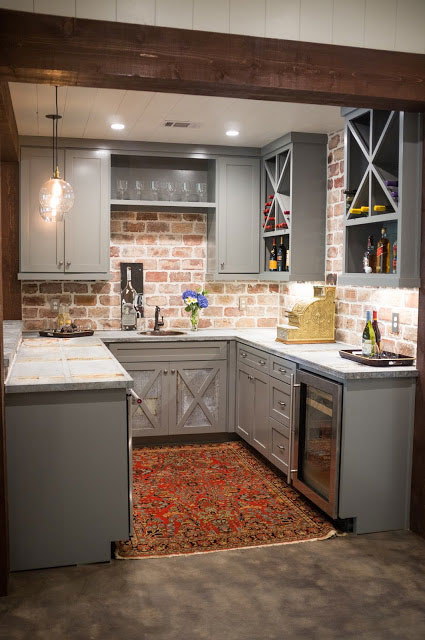 Help! I have a brand new home being built? Where do I start?
I love working with clients from the ground up! The style of the home determines a lot of things, as does "how" you like to live – is it important to have an outdoor space that takes advantage of a certain view? Or will entertaining be done inside? Do you cook? Are you an avid reader? I begin by having a brainstorming session with my clients where we share our goals for the home. Then we have what I refer to as a finishes shopping day – we do lights, tile, plumbing fixtures, countertops all in one day. I find that it keeps the momentum up to do as much as we can in one day, and I love to see how we choose one thing and then the next…keeping a common relation between everything. Afterward, we move to soft finishes like fabrics, upholstery, bedding, lamps, furniture, etc.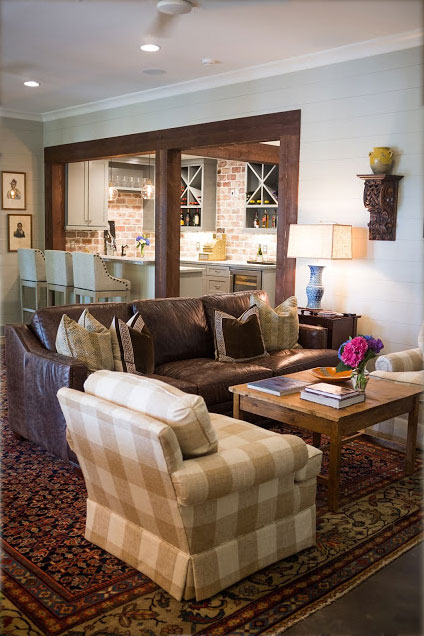 Do you lean toward a certain style or esthetic in your work?
Absolutely! Anyone who has worked with me or seen my work knows I love a touch of Chinois, a good plaid, and a dash of leopard! I lean toward texture over color when it comes to larger pieces, and throw in elements like grasscloth on the walls, antique furniture, and modern art to keep things from looking too "new".
Do you have favorite materials or textures?
For bathrooms, marble is my go-to. There's a reason it's been used for hundreds of years. The patina it garners over time only adds to my love for it! I love a dash of wallpaper and am happy that its in vogue again, but a little does go a long way. Grasscloth is timeless to me, and I love incorporating it into by projects. Classics like bamboo and painted French furniture look great anywhere, and throw in an antique textile or suzani and I am a happy girl!
Where do you find special pieces for clients?
I source pieces for clients anywhere from Scott's Antique Market in Atlanta, to ADAC, to our local furniture stores, to Target. My favorite fabric lines are Schumacher and Quadrille for their punchy prints and classic weaves, and Lewis & Sheron Textiles in Atlanta has been my go-to for years.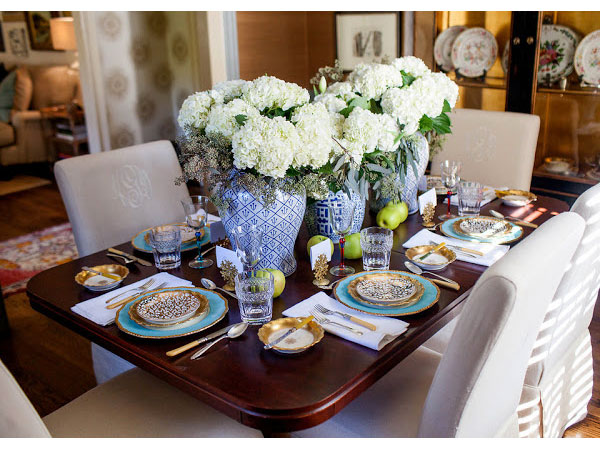 Do you have a favor designer or architect?
I love the style and aesthetic of Bobby McAlpine, Greg Tankersley, and Susan Ferrier of McAlpine House. Bunny Williams' and Furlow Gatewood's interiors are always on point to me, and my best friend James Farmer can do no wrong in my book! terio
Do you follow design "rules" or break them?
Of course there are principles that I live by like scale (SO important), symmetry, and comfort. But throwing in an unexpected "something" gives a house personality.
Is there a favorite room you've designed?
I recently designed several spaces around a large Steve Penley painting, and I love the way they came together.
Do you collect? How do you work with client's who have collections of items.
Oh gosh, I am a self admitted hoarder! I go through phases, but just like my mother and grandmothers, I love dishes, plates, and china. I also collect design books, antique landscape paintings, and antique textiles. For my clients, I try to encourage them to have the best of the collection out, maybe as one focal point instead of using those pieces everywhere.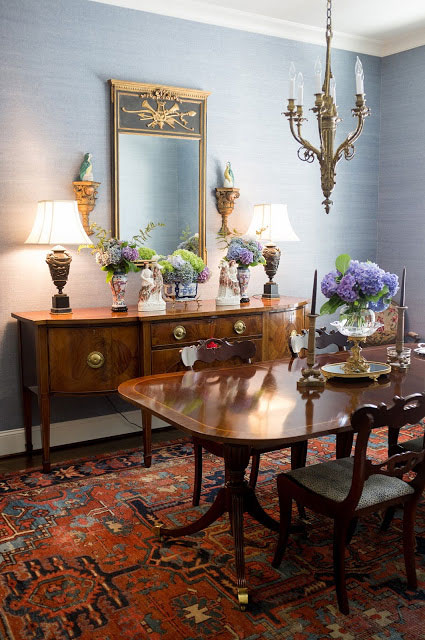 I can't do a complete interior, what quick fix will transform a home?
PAINT! Absolutely the easiest and least expensive way to change a room.
How did you develop your concept/business focus and what makes you crazy about interior design?
I watched my mother and grandmothers put a great deal of pride and time and thought into their homes and our celebration tables. Their example instilled in me a desire to do this for my family someday, and fortunately as a career too. While in college at The University of Georgia, I majored in Furnishings and Interiors, a residential design-based program. I worked in home furnishings retail while in school, as a graduate, and as a newlywed. This fun job gave me my first client list. Around the time I married my husband David, I started my interiors blog, Maggie Griffin Design. It afforded me a place to write about things I loved, current design trends, and acts as a portfolio for my design work. Since having our son Henry three years ago, the blogging has taken a bit of a back seat, but I still share photographs of some of my projects on my blog.
What are some of the things that influence you, aside from furniture or decor?
The way we live as Southerners has a great affect on me. I think we live comfortably but with a touch of formality, and center so much of our celebrations and life around food – the way we set our table, the menus we cook, the china we use. I am so thankful to be from the South and to celebrate the traditions that have been instilled in me.