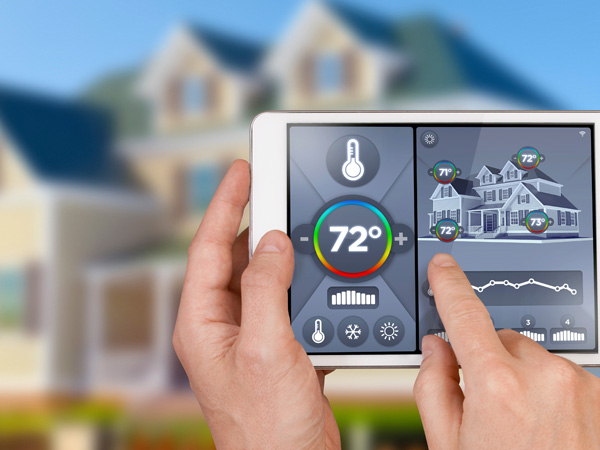 We are pleased to introduce our guest blogger this month: Davis White. Davis has a passion for all things technology, but has a particular interest in "smart home technology" innovation. He is the founder of DataWise Communications, experts at design and installation of technology systems. DataWise specializes in cabling and equipment for distributed audio, security, data, cameras/surveillance, and advanced automation systems.
Smart Home Technology Systems: Will this benefit your family?
You will find no shortage of products claiming to simplify your life. In the past few years we have seen an explosion of connected devices utilizing the "internet of things" to make our homes that much more enjoyable. Unfortunately, most fall far short of their hype. However, there are a few standouts. Some are products and some are entire product categories. What technologies should you be considering in your new home?
The Internet of Things: Automation is supposed to simplify your life.
The word automation is misleading for some. Many of us think that being able to turn on a light via our smartphone is automation. But that is actually just a fancy, and often expensive, remote control. Automation is the key to simplification. Being able to set schedules, routines, or triggers to automatically control your lighting is a much better scenario. Do you want porch and path lights to come on every evening for safety? Do you want your hallway and kitchen lights to power on when opening your garage door, or unlocking the front door? Or to make a would-be burglar think you are home when you are travelling through Europe?
The Smart Home heating and cooling system
HVAC automation is one of the most practical and affordable technologies to emerge from the connected home revolution. Products like Nest and Ecobee use complex algorithms to monitor and learn about your heating and cooling preferences. They then use this information to set schedules and routines to help your family stay comfortable while conserving energy. Best of all, these intelligent thermostats are connected to your network via WiFi and allow you to make system changes remotely. Did you leave for a vacation and forget to adjust the air conditioning? No worries, your smartphone to the rescue.
A greater level of control for your home
Even though many manufacturers have made a push towards wireless and retrofit ready products, the most capable automation systems use a combination of hardwire and wireless technologies to create a greater level of control. Manufacturers such as Control4, URC, and Crestron bring together a myriad of products into one control interface to simplify the user experience even further. These systems can interface with both proprietary and off-the-shelf products to create the ultimate automation package. Security, HVAC, lighting, music, TV, pool/spa, and much more are all easily controllable. And because all of these systems communicate with a centralized controller, they can be managed through a single interface, rather than multiple apps or programs.
Where do we start?
Decide on the level of system control, and the budget that is the best fit for your family.   You probably don't need it all, so consider which control options will truly enhance the way you use your home. If the garage door is constantly left open and you want to be able to control it remotely, then that is a good start. If you want your security system to notify you when the kids get home from school, your security contractor can make it happen.
As mentioned, many of today's automated products don't require additional wiring and can even be installed after your home is complete. However, some systems will need wiring to be installed during the rough-in phase of construction. Be sure to discuss your intentions with your builder so you can develop a plan for installation and consult with a systems installer if necessary.
Want to find out more about how we can help you realize your new dream home? Contact us today!